RUBYcube Vinegar creation, 200ml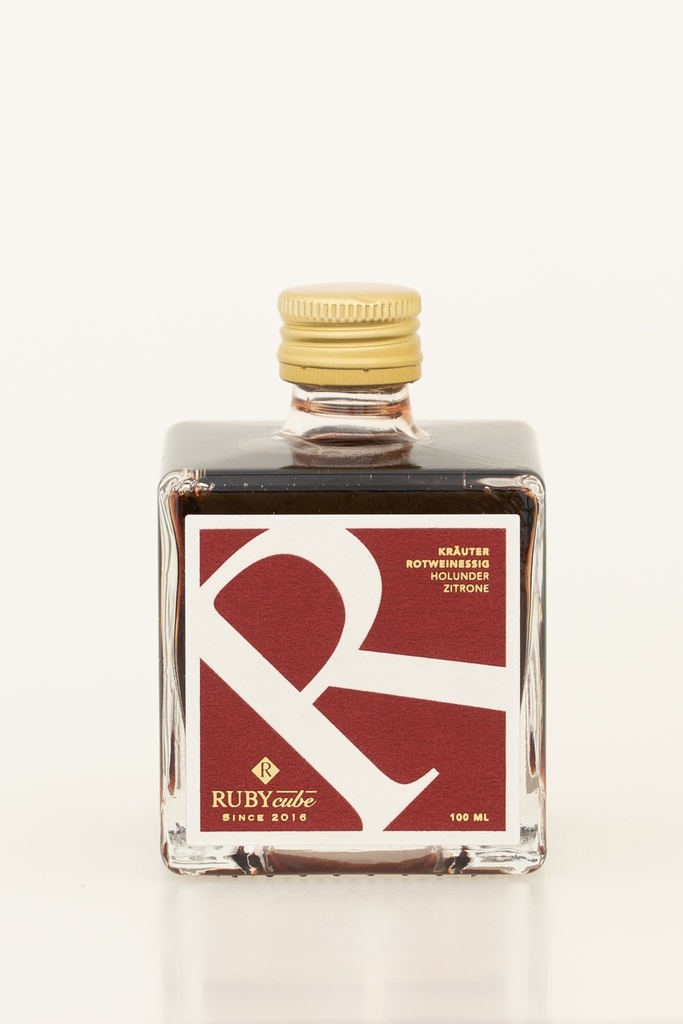 RUBYcube Vinegar creation, 200ml
---
The most extraordinary interplay of sweetness and acidity, fruit and spiciness. For the special moments of pleasure with your own signature. Recommendation Pour 10 ml RUBYcube with 100 ml Goodvine`s Riesling and round off with ice and a lemon zest. 100% natural and 100% unconventional. For this, our herbal red wine vinegar is refined after its maturation in wooden barrels, via careful steps with freshly harvested elderflowers, lemons and cane sugar. The result is produced only 1 time a year and is exclusively limited.
Pairing:With Goodvine`s Riesling, on fresh salad, spicy cheese, sauces and dips. The RUBYcube vinegar creation manages to set accents and is now found among gourmets and top chefs.
Ingredients: Raw cane sugar, red wine vinegar, water, elderflower, lemons, herbs.
| | |
| --- | --- |
| Nutritional information |  per 100ml |
|  Energy |  1121,3KJ/ 268kcal |
|  Fat |  < 0,1g |
|  thereof saturated fatty acids |  < 0,1g |
|  Carbohydrates |  67,0g |
|  Suger |  67,0g |
|  Protein |  < 1,0g |
|  Salt |  0,0 g |
Distributor: RUBYcube UG, Kapellenweg 29, 76829 Landau, Germany
| | |
| --- | --- |
| Alcohol content: | 0 % Vol. |
| Land: | Germany |
| Grape variety: | Red wine cuvée: Pinot Noir, Dornfelder, St. Laurent, naturally fermented |
| Goes with: | Dips, salad, sauces, spicy cheese |
| Content: | 200 ml |
| Drinking temperature: | Room temperature |
| Category: | Vinegar |
| Closure: | Cork |
| Quality Level: | Red wine vinegar creation |