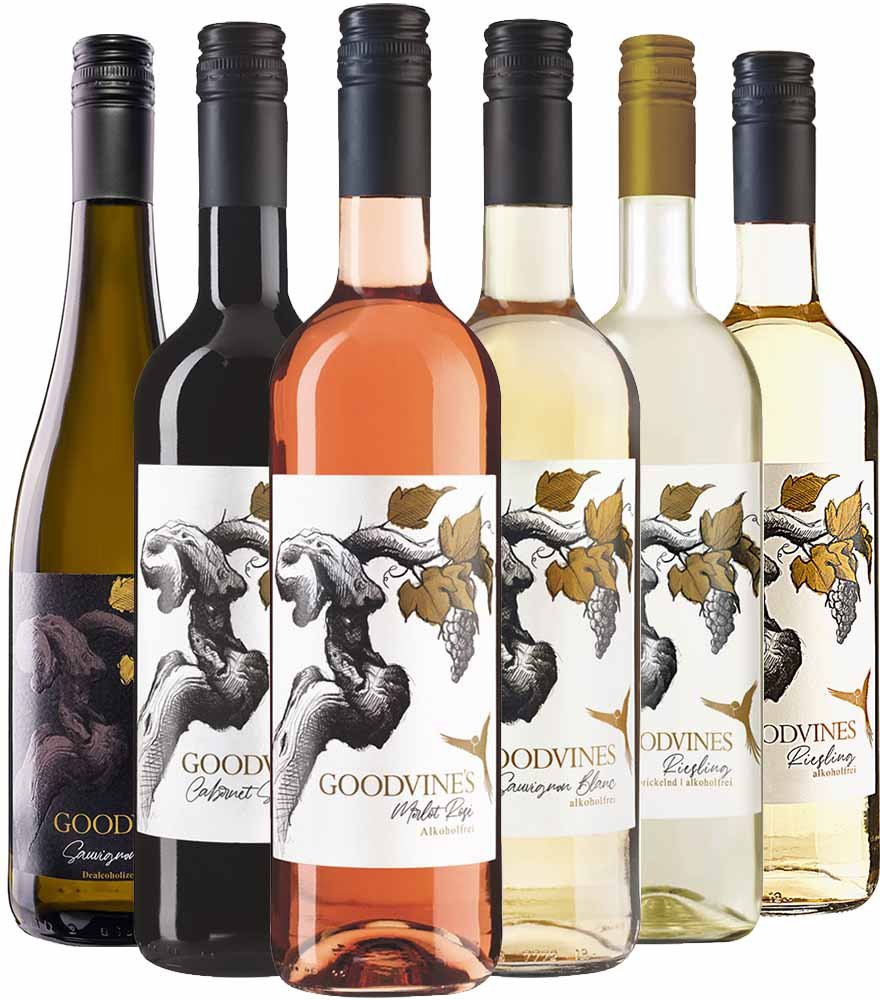 Getting to know bundle
---
Get to know our varieties

With this bundle you have the opportunity to get to know our non-alcoholic wines. Discover our sparkling fresh as well as our traditional non-alcoholic wines
Ideal for those who want to give up alcohol, but want to preserve a pleasurable life and the unique taste of wine.
GOODVINES - sparkling Riesling, Riesling, Sauvignon Blanc, Merlot Rosé, Cabernet Sauvignon - are selected gently dealcoholized wines, without the addition of artificial flavors or artificial sugar. A dreamlike pleasure with an average of only 20 kcal/100ml.
The wines in detail
Sparkling Riesling
A sparkling alternative to wine and sparkling wine. Pure, on ice or as a filler for drinks and cocktails a carefree pleasure.  

Riesling
 Classic Riesling notes with varietal aromas of yellow fruits, such as peach and apricot. At the same time with beautiful minerality - fresh and lively.

Cabernet Sauvignon
A full-bodied wine with a fruity note of black currant. Ideal for those looking for a fruity red wine with delicate barrique notes.
Sauvignon Blanc
A spicy wine with a mild fruity acidity. The varietal fruit notes are reminiscent of green peppers and freshly cut grass. Ideal for those looking for a fresh alternative. Also a delicate option as a filler for drinks.
Merlot Rosé
A fruity wine with a fine aroma of red fruits. The lively freshness and harmonious fruity sweetness makes it the perfect sundowner.
Serving suggestion:
GOODVINES is best enjoyed chilled! Allow to unfold for five minutes before the first consumption.
Package content:
1x Riesling 0,75l  
1x sparkling Riesling 0,75l 
1x Cabernet Sauvignon 0,75l
1x Merlot Rosè 0,75l                                                                                                                                                              
2x Sauvignon Blanc 0,75l