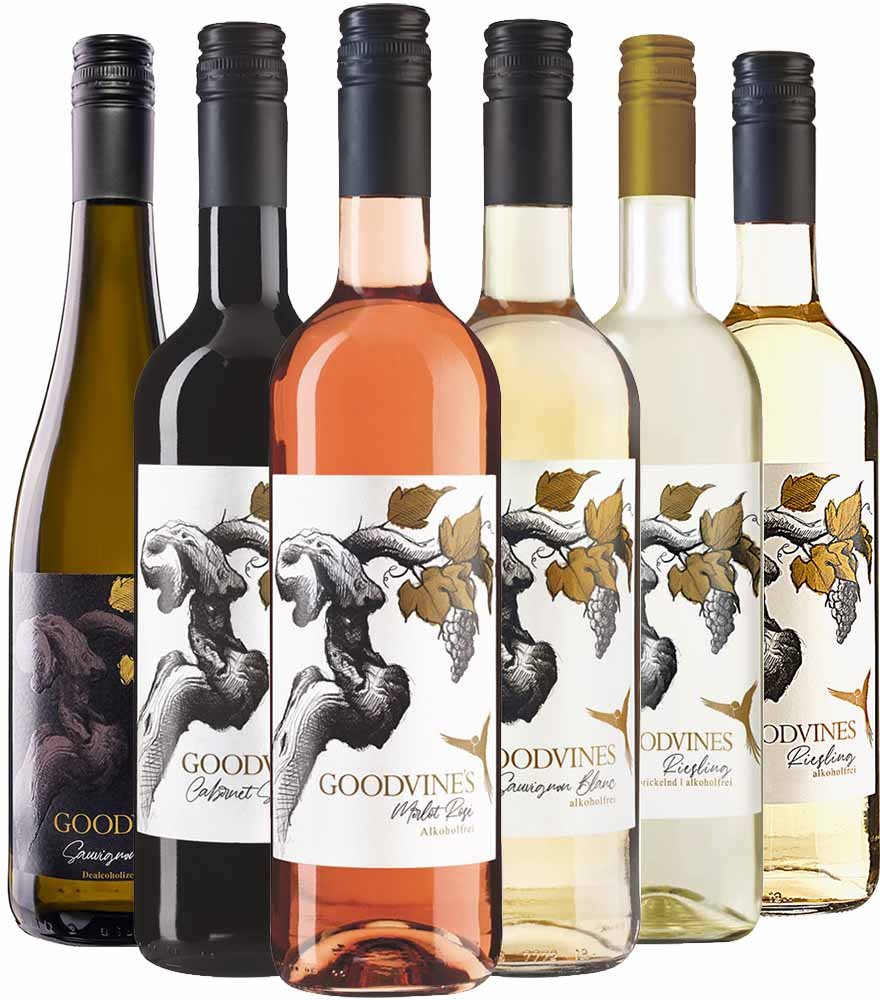 Getting to know bundle
---
Get to know our varieties

With this bundle you have the opportunity to get to know our non-alcoholic wines. Discover our sparkling fresh as well as our traditional non-alcoholic wines
Ideal for those who want to give up alcohol, but want to preserve a pleasurable life and the unique taste of wine.
GOODVINES - sparkling Riesling, Riesling, Sauvignon Blanc, Merlot Rosé, Cabernet Sauvignon - are selected gently dealcoholized wines, without the addition of artificial flavors or artificial sugar. A dreamlike pleasure with an average of only 20 kcal/100ml.
The wines in detail
Sparkling Riesling
A sparkling alternative to wine and sparkling wine. Pure, on ice or as a filler for drinks and cocktails a carefree pleasure.  

Riesling
 Classic Riesling notes with varietal aromas of yellow fruits, such as peach and apricot. At the same time with beautiful minerality - fresh and lively.

Cabernet Sauvignon
A full-bodied wine with a fruity note of black currant. Ideal for those looking for a fruity red wine with delicate barrique notes.
Sauvignon Blanc
A spicy wine with a mild fruity acidity. The varietal fruit notes are reminiscent of green peppers and freshly cut grass. Ideal for those looking for a fresh alternative. Also a delicate option as a filler for drinks.
Merlot Rosé
A fruity wine with a fine aroma of red fruits. The lively freshness and harmonious fruity sweetness makes it the perfect sundowner.
Sauvignon Blanc Black Label
Ein sehr aromatischer Wein mit einer mild fruchtigen Säure. Hier ist es uns gelungen 2/3 der Aromen zurück zu gewinnen. Die sortentypische Fruchtnote erinnert an Grüne Paprika und frisch gemähtes Gras. Ideal für alle, die auf der Suche nach einer frischen Alternative sind. Auch als Filler für Drinks eine delikate Option.

Serving suggestion:
GOODVINES is best enjoyed chilled! Allow to unfold for five minutes before the first consumption.
Package content:
1x Riesling 
1x 1x sparkling Riesling 0,75l 0,75l, 1x Cabernet Sauvignon 0,75l,
1x Merlot Rosé 0,75l, 1x Sauvignon Blanc 0,75l, 1x Sauvignon Blanc Black Label 0,75l