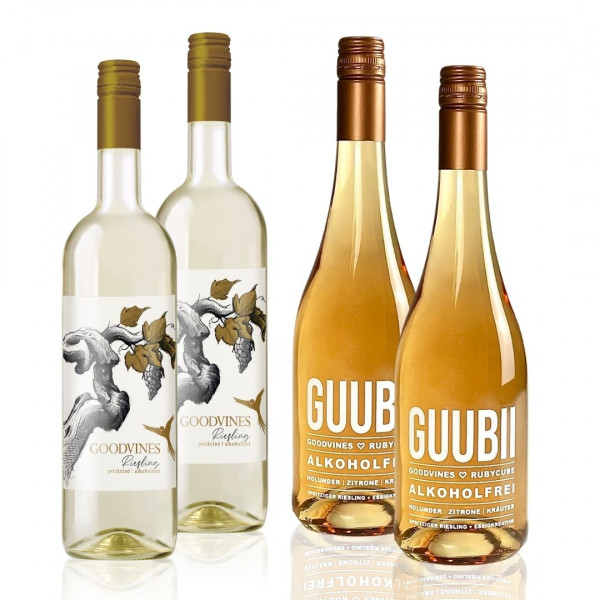 Ladies Night Bundle
---
The perfect package for your girls' night out, consisting of two of our sparkling fresh alternatives to wine and champagne.
Ideal for those who want to avoid alcohol, but still want to toast a beautiful evening with something special.
GOODVINES sparkling Riesling and GUUBII open up new worlds of taste based on a gently dealcoholized Riesling and finely sweet herb red wine vinegar.
Selected Riesling is dealcoholized under vacuum and refined with a little carbonic acid. The addition of artificial sugar or flavors is deliberately avoided. The result is a sparkling-fresh and authentic wine enjoyment that is versatile, whether pure, on ice or also as a mixer for delicious drinks!
For a completely new taste experience, we have developed GUUBII. Here, the sparkling Riesling is refined with a herbal red wine vinegar called RUBYcube. A superlative combination that simply delights.
Serving suggestion: on ice with a lemon or orange zest.
RUBYcube can only be produced once a year. Freshly harvested elderflowers and untreated lemons combine perfectly with the vinegar here during the gentle barrel aging process to create a fruity-sweet and delicately acidic treat.
GOODVINES sparkling Riesling has only about 20 kcal per 100 ml.
Guubii is a dealcoholized Riesling refined with a herbal red wine vinegar and carbonic acid.
Package content: