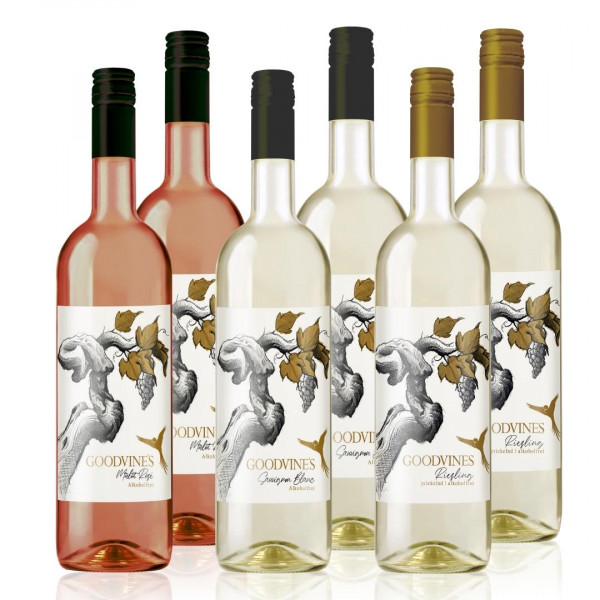 Summer Bundle
---
Enjoy the summer without alcohol

A package full of non-alcoholic wine enjoyment! In gentle processes we create fantastic non-alcoholic wines in red, white and rosé from high quality wines.
Ideal for those who want or need to give up alcohol.

GOODVINES - sparkling Riesling, Sauvignon Blanc, Merlot Rosé - are semi-dry non-alcoholic wines with average 20 kcal/100ml - fresh, light and not too sweet.Wines in detail
Sparkling Riesling
The sparkling Riesling is an alternative to wine and sparkling wine. Pure, on ice or as a filler for drinks and cocktails a carefree pleasure.
Sauvignon Blanc
The varietal aromas of green peppers and freshly mown grass, as well as the mildly fruity yet present acidity, make it an excellent summer wine.
Merlot Rosé
A fruity wine with its typical aromas of strawberry, cherry, blackberry, raspberry, plum and currant pamper the palate of connoisseurs.
Serving suggestion:Enjoy GOODVINES am chilled and let it unfold for five minutes before the first consumption.
Package content:
2x Sauvignon Blanc 0,75l
2x sparkling Riesling 0,75l
2x Merlot Rosé 0,75l