Sauvignon Blanc dealcoholized 0,75l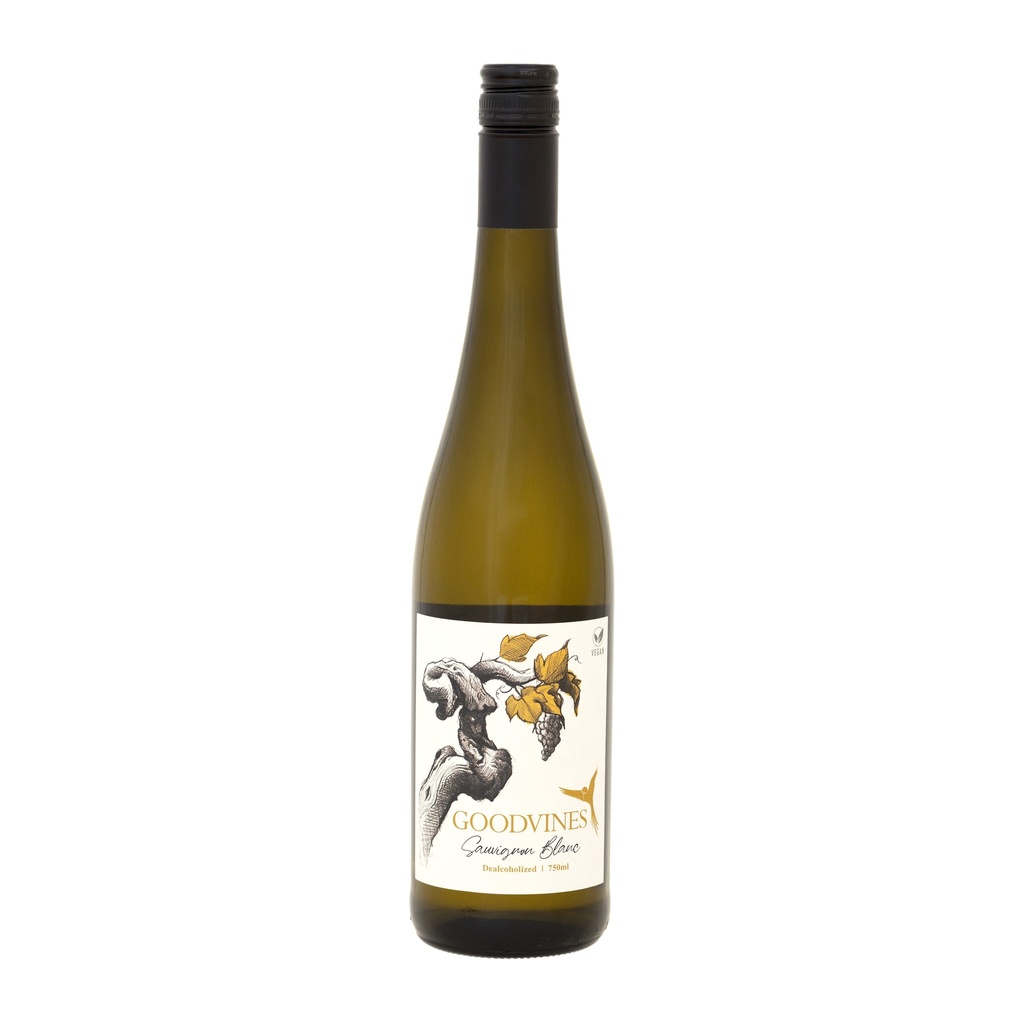 Sauvignon Blanc dealcoholized 0,75l
---
---
STYLISH | AUTHENTIC | DEALCOHOLIZED
This non-alcoholic Sauvignon Blanc is an alternative to wine and sparkling wine. Ideal for those who want or need to do without alcohol.
Our exquisite Sauvignon Blanc is gently de-alcoholized under vacuum. Its soft texture paired with the slightly moussing finish invites you to enjoy. The varietal aromas of green peppers and freshly mown grass, as well as the mildly fruity yet present acidity, make it an excellent summer wine. The addition of artificial sugar or flavors is deliberately avoided.
GOODVINES Sauvignon Blanc is a fresh and authentic wine pleasure, whether pure, on ice or also for delicious drinks!
GOODVINES Sauvignon Blanc has only about 19 kcal per 100 ml.
Serving suggestion:Like all non-alcoholic wines, our Sauvignon Blanc should be allowed to develop for five minutes before the first consumption and drunk chilled.
Ingredients: dealcoholized wine, rectified grape must concentrate, carbonic acid.Preservative: sulfur dioxide.
| | |
| --- | --- |
|  Nutritional values |  per 100ml |
|  Energy |  81KJ/ 19kcal |
|  Carbohydrates |  4,3g |
|  Sugar |  3,7g |
Contains minor amounts of fat, saturated fat, protein and salt.
| | |
| --- | --- |
| Allergen information: | Contains sulfites, sulfur dioxide |
| Category: | Alcohol free, Still wine, White wine |
| Quality level: | dealcoholized wine |
| Closure: | Screw cap |
| Sugar: | 37,0 g/l |
| Total acid: | 6,5 g/l |
| Drinking temperature: | 6-8 °C |
| Alcohol content: | 0 % Vol. |
| Content: | 0,75 l |
| Goes with: | Fish, seafood, pasta |
| Grape variety: | Sauvignon Blanc |